Presidential Inauguration 2023-Bola Tinubu becomes the Nigerian President
Bola Ahmed Tinubu (BAT) a.k.a JAGABAN, sworn in as the 16th President of the Republic of Nigerian. He took his oath of office presided over by the Chief Justice of Nigeria, Justice Kayode Ariwola, on the 29th May 2023.
African leaders alongside religious leaders, traditional rulers and other important personnel witnessed the event at Eagles Square Abuja.
Place of the inauguration of Bola Tinubu
The inauguration ceremony took place on a bright and momentous day at Eagle Square in Abuja, the capital city of Nigeria.
The event was attended by numerous dignitaries, including foreign heads of state, government officials, political leaders, and a large crowd of enthusiastic Nigerians eager to witness this pivotal moment.
Activities during the inauguration
At first, the inauguration began with a lively parade featuring military bands then, thecultural dance groups, and uniformed personnel from various branches of the Nigerian armed forces.
Furthermore, the vibrant display showcased the diversity and rich cultural heritage of the Nigerian people.
Dignitaries present in the inauguration
Firstly, Ghana president Nana Akufo Addo (Second from right), one of the African presidents and other foreign dignitaries attended the inauguration of Tinubu as president
Again, one nine-member delegation from the United States and Chinese officials led by a Communist Party senior member was in attendance for the event.
After eight years of serving, the Ex president of Nigeria, Muhammadu Buhari handed over power to his party Associate, Bola Tinubu. During his farewell speech, He describe the new president as the best candidate out of all the presidential candidates for the 2023 elections. Buhari will now retire to his residence at Daura, Katsina state.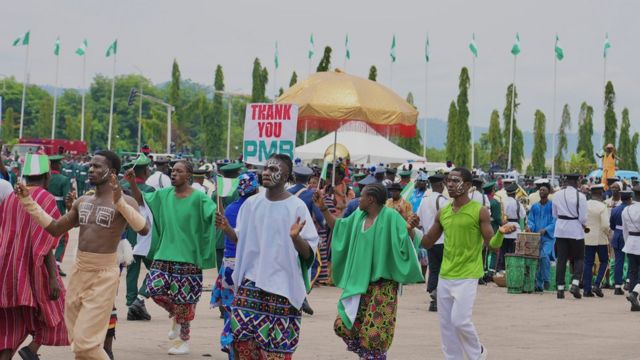 In conclusion, inauguration of Bola Tinubu as the 16th President of Nigeria marked a historic moment in the nation's history. With promises of unity, progress, and good governance, President Tinubu embarked on a journey to address challenges and uplift the country.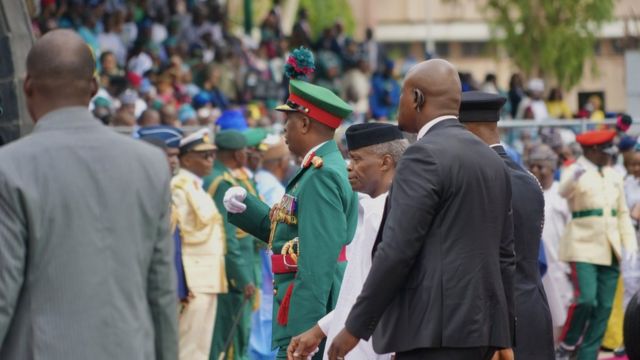 The Nigerian people, filled with hope and anticipation, stood ready to support their new leader in building a brighter future for all. The stage was set for Nigeria's path of development and prosperity under President Tinubu's leadership. For other related informations, "click here" or visit "here" for live vedios